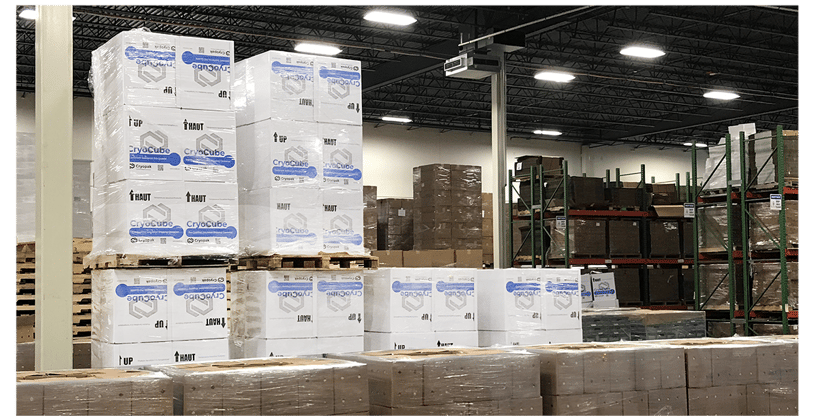 Cryopak, the leader in temperature assurance packaging and temperature monitoring devices, looks back on the opening of its new state-of-the-art facility in Memphis.
Edison, NJ – Cryopak Industries, a division of Integreon Global, has just completed its first year of providing refrigerants and packaging solutions to customers in the Memphis, TN area. This new 65,000 sq. ft. state-of-the-art facility, located near the airport, and serving the growing cold chain market with ISTA and ASTM-validated solutions opened in the Spring of 2020 to better serve customers located in the Memphis area, as well other key southern locations.

Cryopak's Vice President of Operations, Randy Caraway, stated "Cryopak has made, and will continue to make investments in the future of our customers. The Memphis facility is the result of a lot of hard work by a great team, and I am very proud of the achievements that our team has made to bring production in line during this past year with our other locations across North America and Europe. This Memphis location is perfectly situated to support the needs of the southeastern U.S., and we're looking forward to being a part of the Memphis landscape for many years to come."
###
About Cryopak
Cryopak, a subsidiary of Integreon Global, manufactures technologies for temperature-sensitive shipping needs, including insulated shipping containers, gel packs, phase change materials and temperature monitoring devices. Cryopak's primary goal is to protect the integrity of its customers' products. Serving companies in the pharmaceutical, life science,
biotech, food, and electronics industries, Cryopak is headquartered in Edison, NJ with locations throughout the United States, Canada, and France to serve clients across the globe.
For more information visit www.Cryopak.com.
About Integreon Global
Founded in 1990, Integreon is a complete packaging solutions provider dedicated to providing goods and services to maintain the integrity of our clients' products. Our team includes a full complement of engineers, designers, and manufacturing specialists with the collective skills, gathered in one close-knit organization, to assure easy access to leading experts.
For more information visit www.integreonglobal.com
For More Information
Contact sales@cryopak.com to send an email or visit www.cryopak.com to learn more about Cryopak.