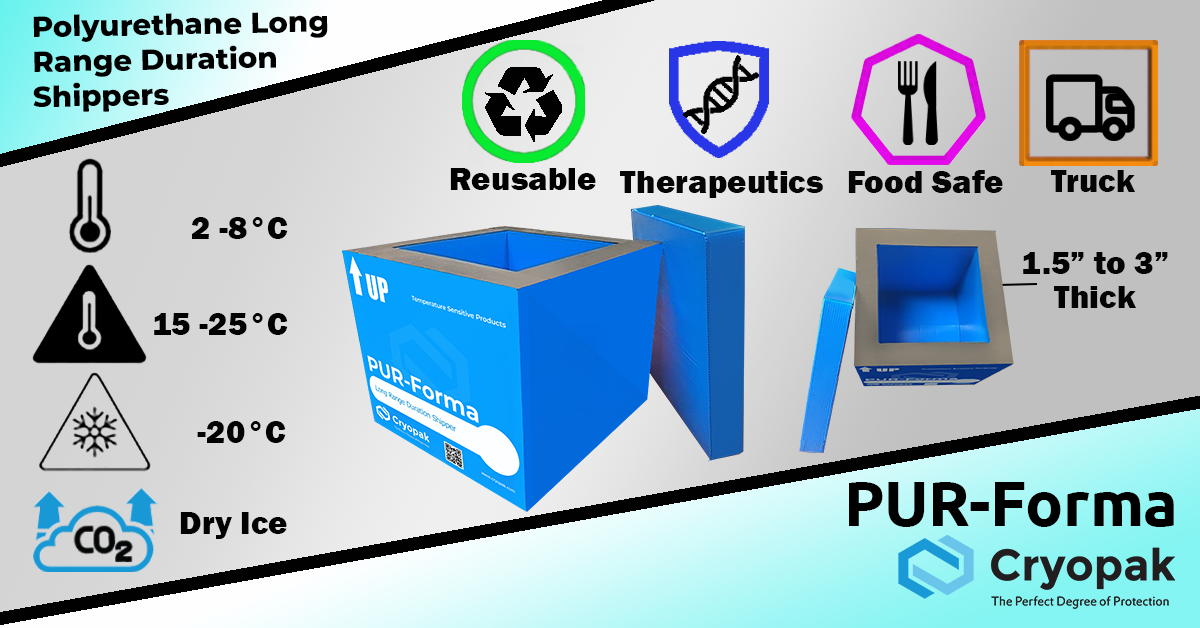 PUR-Forma Pre-qualified shipping solutions address a wide range of temperature and duration demand..
Edison, NJ – Cryopak, a global leader in the cold chain packaging industry, has formally developed a line of polyurethane shipping solutions, previously only available as custom-designed offerings. The PUR-Forma Long Range Duration line is comprised of a series of pre-qualified polyurethane shippers manufactured in the U.S. and Canada. The line includes: PUR-Forma Chill (2-8°C), PUR-Forma CRT (15-25°C), PUR-Forma 20B (-20°C) and PUR-Forma DIS (Dry Ice).
The PUR-Forma line of products has been engineered to mimic the performance of traditional products in this space, and are appropriate for Food & Beverage delivery, Pharmaceuticals, Clinical studies/trials, and any other industry where products require temperature control.
"We have been providing quality polyurethane shippers in a customized form for a number of years. We recognized the value that our customers placed on these solutions and are working to develop a line that will offer a broad appeal," said Jianyao Mou, Engineering Manager at Cryopak. "Our team has worked well to put together this initial series of PUR solutions, and I'm looking forward to our continued development in this area. Offering validated shipping solutions that helps address the needs of our customers is something that both our company leadership and our staff are excited to be a part of."
###
About Cryopak
Cryopak, a subsidiary of Integreon Global, manufactures technologies for temperature-sensitive shipping needs, including insulated shipping containers, gel packs, phase change materials and temperature monitoring devices. Cryopak's primary goal is to protect the integrity of its customers' products. Serving companies in the pharmaceutical, life science,
biotech, food, and electronics industries, Cryopak is headquartered in Edison, NJ with locations throughout the United States, Canada, and France to serve clients across the globe.
For more information visit www.Cryopak.com.
About Integreon Global
Founded in 1990, Integreon is a complete packaging solutions provider dedicated to providing goods and services to maintain the integrity of our clients' products. Our team includes a full complement of engineers, designers, and manufacturing specialists with the collective skills, gathered in one close-knit organization, to assure easy access to leading experts.
For more information visit www.integreonglobal.com
For More Information
Contact sales@cryopak.com to send an email or visit www.cryopak.com to learn more about Cryopak.