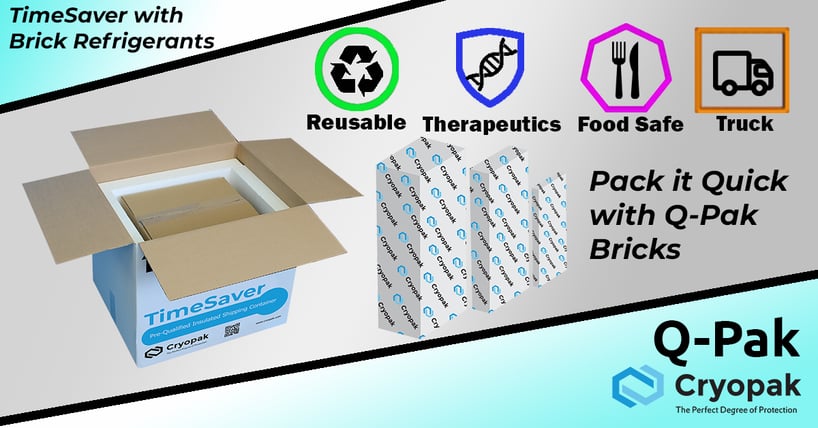 The Q-Pak TimeSaver is a variation on the popular TimeSaver line, but the refrigerant is a water-infused "brick", which ensures a consistent shape and a faster pack-out.
The initial offering of this new group of TimeSaver products offers 48-hour range duration in multiple sizes (small, medium, large) for both 2-8°C and 15-25°C temperature ranges.

"These brick shippers are easier to pack, and they match the performance of other refrigerants that are available. They really have become a valuable tool for many of our customers. I'm pleased to see that we are now able to offer these commercially so that others can benefit from these great solutions." said Jianyao Mou, Engineering Manager at Cryopak. "Our team has worked hard to put together this initial series of Q-Pak TimeSaver solutions, and I'm looking forward to our continued development in this area as we constantly strive to improve not only performance, but the overall packaging process. Our team takes great pride in being able to offer validated shipping solutions that allow our customers to take control of their packaging needs."
###
About Cryopak
Cryopak, a subsidiary of Integreon Global, manufactures technologies for temperature-sensitive shipping needs, including insulated shipping containers, gel packs, phase change materials and temperature monitoring devices. Cryopak's primary goal is to protect the integrity of its customers' products. Serving companies in the pharmaceutical, life science,
biotech, food, and electronics industries, Cryopak is headquartered in Edison, NJ with locations throughout the United States, Canada, and France to serve clients across the globe.
For more information visit www.Cryopak.com.
About Integreon Global
Founded in 1990, Integreon is a complete packaging solutions provider dedicated to providing goods and services to maintain the integrity of our clients' products. Our team includes a full complement of engineers, designers, and manufacturing specialists with the collective skills, gathered in one close-knit organization, to assure easy access to leading experts.
For more information visit www.integreonglobal.com
For More Information
Contact sales@cryopak.com to send an email or visit www.cryopak.com to learn more about Cryopak.